All about QSL cards and QSL Management:
This is
S79JKN
, and my name is Jaya Nair, and I am very proud to be appointed by SARA Seychelles to be the National QSL Manager in our region.
What does QSL mean and what is the job of a QSL Manager?
QSL means either "do you confirm receipt of my transmission" or "I confirm receipt of your transmission". It can also mean "please send me a QSL card".
A QSL card is a written form of QSL, a confirmation of contact between two parties. Traditionally, amateurs traded QSL cards and the style still goes on. Usually about the same size as a postcard, often elaborately decorated to express individuality or a country, and the cards are mailed from person to person. Amateur radio is gradually becoming popular in Seychelles and it is considered as a 'rare new contact'. Hence, we at SARA have designed a couple of cards to portray the same…unique by a thousand miles !
SARA QSL cards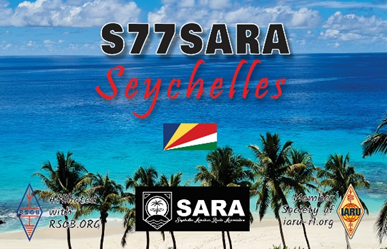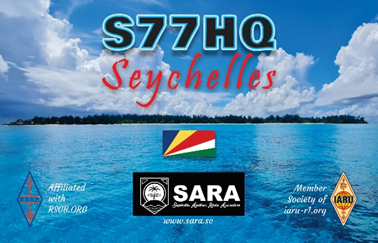 The concept of the QSL bureau enables cards to be sent in bulk at all stages of the journey from sender to recipient.
Senders send their QSL cards to the bureau. Here they are sorted and when sufficient cards have accumulated to be sent to the recipient, they are mailed to him / her. Typically, any user who is able to receive cards via the QSL bureau will lodge their QSL cards with the bureau so that they can be sent when enough cards accumulate.
Naturally as cards have to wait until sufficient cards have accumulated for them to be sent at each stage of their journey, it can take a few months for them to arrive. It is not unusual for replies to take a couple of months, and so patience is definitely needed when sending cards via the QSL bureau.
Most of the countries with large amateur radio populations have a QSL bureau. However, there are many countries where there is no bureau because the number of ham radio stations is small. Here in Seychelles SARA has reached out to me to serve as their manager for the QSL Bureau and we have been accepting and sending cards since early last year.
So, what does the QSL bureau does
Outgoing QSL cards: When sending cards out through the QSL bureau, they can be assembled at the bureau. It normally helps to sort them into countries and also where applicable, into call areas. All the cards are clearly marked with the callsign of the recipient. The back of the cards are clearly marked as well with the call sign of individuals and details of the QSL.
Back of a QSL card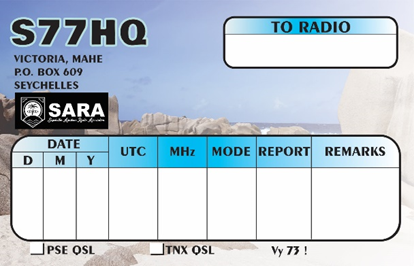 The cards should be sent in a sufficiently strong envelope to ensure safe transit. It is also necessary to ensure that the required postage is paid. With a number of cards in a given envelope it is necessary to make sure the weight or size limit is not exceeded. The envelope is then sent to the required address of the QSL request.
Incoming QSL cards:
QSL cards coming to us are normally sent to SARA/individual registered members or to myself as QSL bureau manager for SARA and they mostly come with self-addressed envelopes with either pre-paid stamps or with a contribution to bear the cost of sending them back with one of our own QSL card. With modern technology and the internet these days, incoming cards are requested online and a minimum payment of US$ 3 for processing our card to be sent to them (purpose of stamps and envelopes and logistics). This method has surpassed the methods of sending cards and receiving by postal services. If you are a collector of QSL cards, and there are many, it is not a great idea for them.
These are general concepts for using a QSL bureau
Here at SARA, I am happy to announce that, we regularly receive QSL cards and requests through postal services but most popularly nowadays through online request!
S79JKN
Jaya Nair